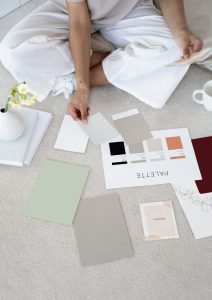 There are several essential elements every business needs when establishing its online presence. Some of the first things that may come to mind are active social media pages, a Google My Business page, a logo, and more.
While all of these things are incredibly important, a company's visual assets play one of the most important roles in establishing a brand. Having a consistent brand design helps your business stand apart from competitors and helps get the consumer's attention.
Creating a brand style guide will help ensure your visual assets are consistent.
What is a brand style guide?
A brand style guide is a document that groups together all of the elements of the brand's visual identity including the logo, font, color palette, and other imagery. It can be shared with partners and marketing teams that you outsource to (like us!) to help communicate your brand correctly and consistently.
Brand style guides are especially helpful to have when designing or redesigning a site. This will ensure that all of your new elements are cohesive!
What does a brand style guide consist of?
If it's your first time creating a brand style guide, here are the key elements that you'll want to include:
#1: Logo
The logo is the most obvious graphic element of a brand's identity. It's typically the first thing that consumers come into contact with.
Make sure you include full logos, secondary logos, and icons.
#2: Typography
Any fonts used within the logo and on your website should be a part of your guide. You'll also want to distinguish between fonts used for title headings and body copy.
Most guides display this by typing letters A-Z and numbers 0-9 in all typography.
#3: Color Palette
Color matters. In fact, the Institute for Color Research found that people make subconscious judgments about a product based on its color within 90 seconds of viewing it.
With that being said, it's crucial to make sure you have an appropriate color palette – and not too many colors!
You'll want to include both primary and secondary colors along with their hex color codes.
#4: Imagery
Images are important to a brand's visual identity. It's good to have a bank of images to use on deck as you don't want to focus solely on your logo and typeface. Take some time and pick out some on-brand images to use for social media posts and advertisements.
Recap
Your guide may be more or less detailed depending on your business. Some companies will require a tone of voice on their style guide to show the correct uses of language and emotion. Other companies may require specific examples of uses/unacceptable use.
Almost every brand style guide will require the four elements listed above, so get started on yours today! Remember that a style guide is essential to keep your brand consistent and recognizable – especially if you have a large team that all takes a turn creating digital content.
Need help with your brand style guide? Contact our experts at Sweet Rose Studios!