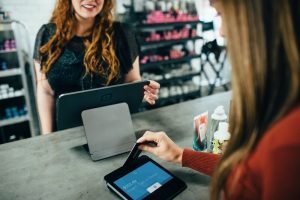 We hate to break it to you. The linear marketing funnel most companies use is old news. The popular marketing tactic that follows a consumer's path through traditional stages of awareness, consideration, and decision is now being challenged by a new type of search, what Google has coined the 'micro-moment'.
It's important for small businesses to understand this new term, why it matters to their marketing efforts, and how to revamp their strategy to accommodate micro-moments.
What Is A Micro-Moment?
Let's start with the basics: A micro-moment is defined as "An intent-rich moment when a person turns to a device to act on a need "to know, go, do or buy."
There are four main types of micro-moments that guide how companies should shift their marketing to include fast and user-friendly solutions:
Micro-moments include:
I-want-to-know: Involves someone who is in the midst of a search for a solution to their problem, but is not ready to commit to a purchase.
I-want-to-go: Involves someone who is looking for a local business or product that can satisfy their current needs.
I-want-to-do: Involves someone who is ready to try a new activity or is looking for help completing a task.
I-want-to-buy: Involves someone who knows what they need to solve their problem or inquiry and just needs to know where and how to buy it.
Your company should understand the micro-moments it attracts and utilizes that to secure potential customers.
Micro-Moments Best Practices
There are some simple ways to consider micro-moments in your marketing strategies moving forward:
Identify which micro-moments are relevant to your company and consumer base so that you can better prepare for engagement with potential customers.
Once a micro-moment happens, consider how you can be there for your customers to help them reach their goal. I.e. customer service, FAQ pages, etc.
Have a clear call-to-action. Make the purchase path or reservation process clear and fast.
Ensure that these steps are optimized for multiple platforms and you have consistent messaging.
Measure your success and results.
For example, if a hair salon wants to start considering micro-moments in their marketing, they would most likely focus on "I-want-to-know" or "I-want-to-go" moments. They can do this by creating content that focuses on the benefits of their salon over competitors and taking a more localized approach (which we will get to later).
If I type "Hair salons near me", a "go" oriented moment into Google, I will be provided the following local business results:
Hint: You want your company to be in these results.
Any of these websites should also focus on directions, location, services, prices, and expertise to additionally satisfy their "know" and "go" moments. Clear booking instructions and a simple process with customer service options available is a must.
The salons should then monitor this approach and see if they have an influx of new customers. If appropriate, they should ask customers about how they heard about your business through a follow-up survey or email.
Mastering Micro-Moment Marketing
While the best practices listed above will help, the real focus for long term growth should be on boosting your company's local SEO.
What Is Local SEO?
Local SEO is a strategy that helps businesses promote their products and services in local searchers by consumers.
For example, local SEO would allow a small bagel shop to show up in "bagels" nearby search results, even if they are not the top-ranking result for "bagels".
In short, local SEO is a realistic and approachable way for small businesses to get a hold of their region's market. By optimizing for local SEO, you are allowing your company to show up as a fast and easy solution to a searcher's problem.
How Do I "Do" Local SEO?
The best starting point for local SEO is optimizing your Google My Business (GMB) page and collecting Google Reviews. Your GMB page will allow your company to start showing up in micro-moment search results, while reviews build up a sense of trust between your company and the searcher.
Learn More: Claiming, Verifying and Optimizing your Google My Business page.
Learn More: How To Ask For Google Reviews…And Get Them!
Local SEO is the strategy behind securing clicks during micro-moments. When a consumer pursues a micro-moment related search, they are looking for a fast, accessible, and local answer. By having your local SEO optimized, your company will be their fast solution which they will eagerly engage with, often time already in the mindset to purchase.
Micro-moments and local SEO go hand-in-hand for small businesses. The key is to assess which micro-moments make sense for your company and then build awareness around your product or service within those specific moments.
Interested in SEO support? Our team of marketers is here to help!