Running a small business is hard work. If you're thinking about holding an event to promote your company, it is most likely an additional strain on your time, money, and resources.
Luckily, there are simple and very effective ways to get the word out about your big day!
Why Throw An Event?
Before jumping into marketing an event, it's important to understand why small businesses benefit from hosting events in the first place. Here is a summary of why an event is a wonderful promotional tactic:
By bringing people into your space, you are creating an opportunity for experiential marketing, or a way to engage with consumers by inviting them to participate in an experience hosted by your brand. For small businesses, this doesn't have to be a full-blown gala or concert. Here are some popular events small businesses can host to engage with current and potential customers:
Workshops
Ticketed parties
Open houses
Hosting a speaker
Pop ups
While some businesses have the capacity to host large events with deep marketing budgets, small businesses usually have to be more resourceful. Check out cost-effective and simple event marketing strategy steps for your next occasion below.
#1: Create a Landing Page
A landing page is not your home page; it is any page on your website dedicated to encouraging a specific call to action from visitors. Creating a landing page for your big day is the first step to nailing event marketing. This page will serve as the destination, or "landing", for any other marketing channels.
Your landing page should contain the following information:
Event details (Go back to the basics: Who, What, Where, When?)
Any sponsors or supporters of this event.
A direct way to contact your staff with any questions.
A clear and concise call to action, especially if registration and/or ticket purchases are involved.
#2: Update your Socials
Now that you have a spot to guide leads to, you need to get them there! This is where you begin to spread the word to current and potential customers. The best place to start is your social media channels.
Even if you have a small follower count, it's worth posting event updates on social media; People interested in your company may not check your website every day but they will probably check their social media feeds! Keep the buzz going with shareable and informational content.
Here is a social media checklist for effective results:
Create a Facebook Event page that is viewable to the public.
Draft 1-2 social media posts per week for each of your channels that promote the event.
While on some platforms you may be able to have a link in your post, add your landing page link to your bio on platforms like Instagram.
Post behind-the-scenes content, event updates, and any announcements to keep people in the loop.
Engage daily, or as often as possible, with interested users.
Pro tip: Have an ad budget? Boost promotional posts on Facebook to a niche audience that would resonate with your company. You will spend less money and will be targeting users who are more likely to act on your invite.
#3: Send Out a Newsletter
After posting on social media for a wider reach, it's now time to hone in on your loyal customers with an e-blast!
Your subscriber base signed up for your newsletters for a reason, and now is the perfect time to update them with your company's happenings.
Here are our tips for promoting an event through email:
Start with a catchy and concise subject line.
If available, add a photo that displays the experience of the event rather than the facility or space.
Include event details.
Finish with an enticing call to action that links to your landing page.
Make subscribers feel even more special by using this channel as a way to promote pre-sales, discounts, or perks.
Here is an example of a newsletter successfully promoting an upcoming event: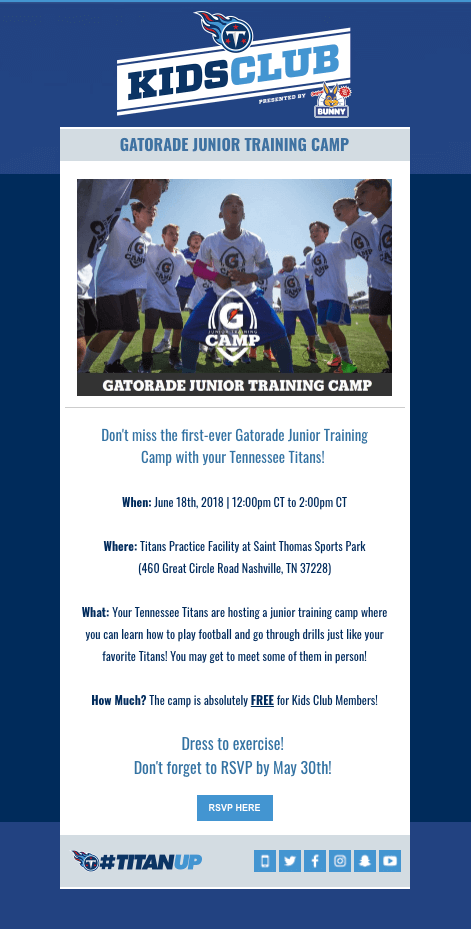 #4: Take Advantage of New Business
As your event date approaches, it's time to think about all of the potential customers you will have in your space. Sure, some are loyal customers or one-time buyers, but now is the time to secure repeat business and new leads. Use the event to showcase the benefits of your company and all that you have to offer.
Hosting an open mic night at your cafe? Have signage about your lunch specials visible to draw the crowd back in during regular business hours.
Holding a local workshop? Encourage visitors to write down their email for updates on upcoming events.
Don't forget to take pictures and videos to use for future event marketing efforts!
Then, after the customers leave and things slow down:
Collect and organize any new information or contacts.
Send out a follow-up email that thanks people for attending.
Spend 1-2 hours looking at your landing page traffic, social media engagement, and newsletter rates to refine your event marketing strategy.
You will now have a new mass of customer information to add to your company's records that will benefit you the next time you plan an event…and again launch an event marketing campaign!
Want to elevate your event marketing? Chat with our digital marketing experts!