Hashtags are becoming a quickly overused feature on social media platforms. With hashtags like #summer having over 435 million posts on Instagram alone, it can be difficult to have your brand use relevant hashtags while still standing out.
That's where branded hashtags come in. In a world of saturated hashtags, branded hashtags are here to help you engage with your audience in a unique way.
What Is A Branded Hashtag?
Branded hashtags are hashtags created specifically for your company. A recent study found that 70% of the most-used hashtags on Instagram are branded hashtags that were created by businesses looking to set themselves apart.
Branded hashtags not only build that sought-after brand awareness, but makes it easier to engage with your audience and get them involved. You can also easily track the success of your branded hashtag by looking at your engagement analytics.
Here are some examples of popular hashtag campaigns:
Lay's ran a #DoUsAFlavor hashtag on Twitter to get followers involved in their flavor contest: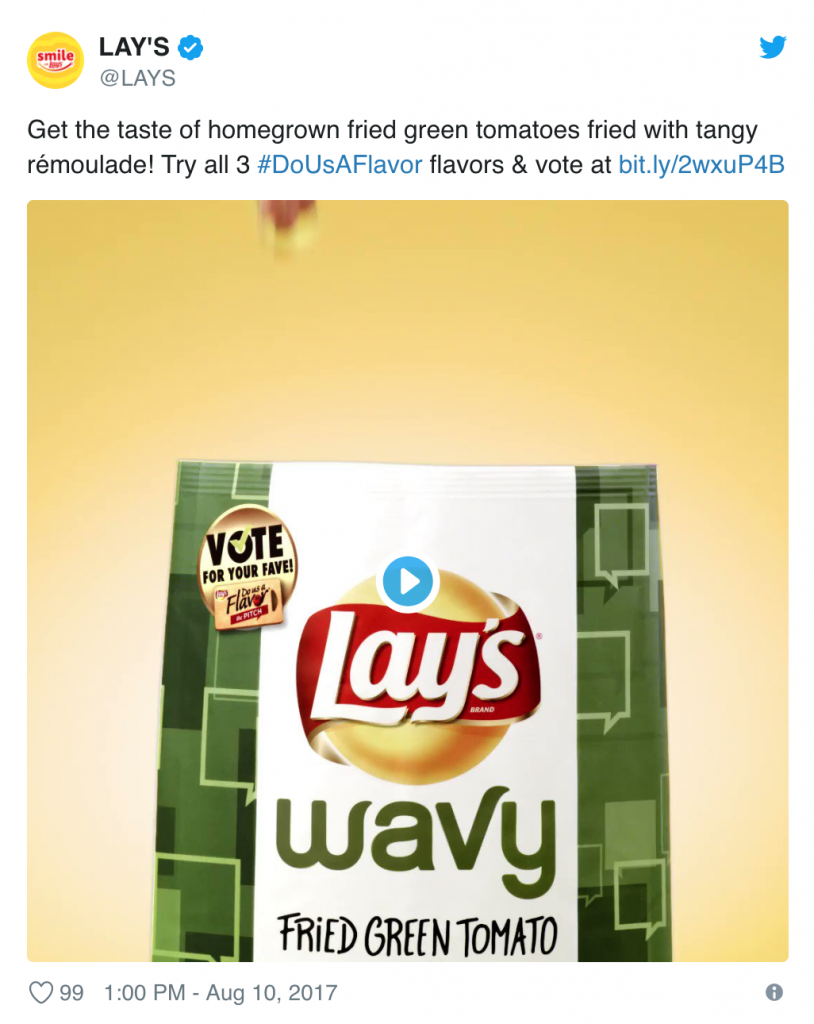 Coke has the branded hashtag #ShareACoke which encourages their customers to engage with their company on social media. #ShareACoke has over 660,000 posts on Instagram alone!
It works just as well for local businesses too. Here is an example of how a cafe turned their unique board game experience into a popular hashtag, #snakesandlattes, for customers to engage on:
How To Create A Successful Branded Hashtag
While it may seem daunting to come up with a catchy and fun branded hashtag, just keep in mind three things; Your hashtag should be:
Original – When you think of your one-of-a-kind hashtag idea…make sure it's actually unique. You don't want to confuse your audience and you definitely don't want to blend into a hashtag mix.
Clear – While originality may lead you to some innovative ideas, keep your branded hashtag straight forward. There should be no confusion about what your business is about from its hashtag. Keep it short, simple, and sweet.
Creative – Audiences are always keen on playful hashtags! Make people curious about your company through your hashtag and eager to join in on the fun.
By making your branded hashtag original, clear, and creative, you'll have the perfect ingredients for a scroll-stopping hashtag concept.
Using Your Branded Hashtag
Once you have the perfect branded hashtag, you might be wondering how you can use it to your advantage.
As long as it is a general hashtag that can be used on an ongoing basis, make sure to promote it weekly in your own posts. A great way to get people involved is by reposting people who include your hashtag in their photos. Who can resist the opportunity to get reposted by a brand!?
Rihanna, an international pop star-turned-fashion mogul, has used this concept to skyrocket her latest brand, Fenty Beauty's, engagement. Instead of allowing her fame create a sense of unattainable luxury, she engaged with users on a personal level and shared people using her product and the hashtag #rihgram.
This approach works for companies big and small, as long as the engagement is genuine and consistent.
If you want to kickstart more specific campaigns, a branded hashtag can be used for running contents, launching a specific product within your company, or promoting an upcoming event. While you should still have a general branded hashtag for your company as a whole, these are other opportunities to utilize unique hashtags.
Want to boost your social media presence? Contact our marketing experts for help!